How to Keep Healthy for Marathon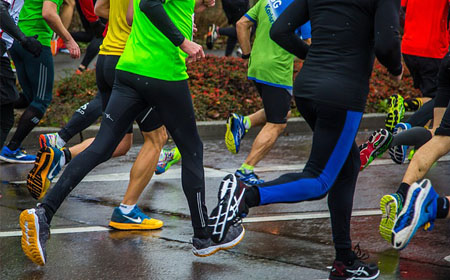 Running is a great way to keep the shape and to achieve a healthy life. It benefits nearly all parts of your body and lifts your moods those moments when you feel low. The benefits of running are immeasurable, and this is why not just everybody that trains in the morning is eying to take part in a marathon. Some just want to keep the shape and look younger. On the other hand, if you are training with the aim of participating in a marathon, you need to ensure that you keep healthy for the marathon. There are many useful tips through which you can achieve this, but here what you need to do before the marathon.
Eat Well

The foods you eat affect not only your overall health but also impact your risk of the running-related injuries. Desist from consuming nutrient-poor foods and consume whole meals as these are ideal for supplying your body with nutrients and calories it needs. These nutrients are sure to offer your body the fuel it needs when running or even recover after your workout. When eating to prevent an injury you don't have to adapt to a complicated or restrictive diet. Aim to eat 5 to 9 servings of vegetables and fruits daily, in a mixture of colours. These provide your body with minerals, vitamins, and antioxidants that enables your body muscles to recover quickly. Foods rich in calcium, e.g., yoghurt, and cheese and a myriad of dairy products are right for your bone density. Also, try to take in leafy greens as they are sure to prevent stress fractures.

Rest

Having plenty of rest is essential. That said, one doesn't have to run every day as you need to give the body a chance to recover from the miles. When you rest, you heal the microtrauma in the muscles making your body stronger. When a body does not rest to recover, the bones, muscles, and joints can grow weaker over time. Therefore, you need to set aside 1 to 2 days every week to rest, despite your training schedule that week. During these days, do something different such as doing yoga, or going on a light walk. Only ensure that the activity is gentle and of low intensity. Rest days are imperative especially when training for a marathon or a half marathon. The more you train harder, the more resting time your body needs. It is recommended that after the race, say half marathon, you set aside 3 to 7 days to rest. Set aside a week or two for rest after a full marathon.

Wear running shoes when training for a marathon

Finally, the importance of properly fitting shoes for running cannot be understated. Always go for shoes that match your pronation, and ones that guarantee the amount of support and stability you need. Remember to replace them when they get worn out to reduce the risk of injury. Replace shoes with worn out traction on their bottom as the lack of support may lead to the foot injury. This way you will be safe until the date for the marathon.
← Accommodation in Brathay