Fascinating Marathons in the United Kingdom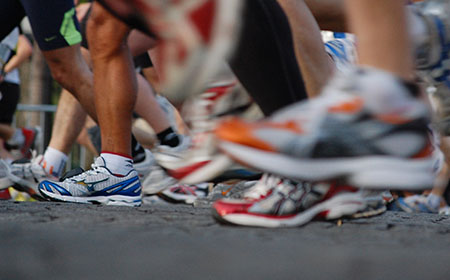 It doesn't matter whether you are just running for fun or you are a professional athlete, running often gets one looking fit and healthy. What's more, the endorphin rush that one gets when they complete a run makes you want to run some more in the future. This has seen many runners wishing to progress from just the regular runs in the park to something that can challenge them more. For years now, the UK has been known to hold quite some marathons every year. These attract thousands of marathon enthusiasts. Here are just some of the best UK marathons that you can attend next time. They are sure to challenge you more than just running in your everyday park.
The London Marathon

This one is considered the champion of all running events in the United Kingdom. Also referred to as Virgin Money London Marathon, it was founded in 1981 by the then Olympic champion Chris Brasher and athlete John Disley. The event has on each passing year attracted everyone from first-time runners running for a course to the world record breaking athletes. Typically, it is usually held on the last Sunday of April each year. It follows a route, around river Thames. Since the marathon began, over a half a million runners took part to completion. In 2016, up to 39,140 completed the race which became the new record. Over the year, the London Marathon has various partners and sponsors including Virgin Money, New Balance, Abbott, Holiday Inn, TNT, BBC Sport, Buxton and Many more.

Deep RiverRock Belfast City Marathon

This marathon has been there for well over 30 decades now. In 2016, it celebrated its 35th year, an occasion which makes it more established than most of its counterparts. This marathon is also famous and in 2018, May, it was expected to bring together over 17,000 runners in the streets of the Northern Irish Capital. The marathon runs for approximately 6 hours. Each year registration for anyone who wished to participate opens around October. Online registration is also easy as you will be required to download the registration form from their official website and fill it up. During autumn, its even team holds a half marathon. Like the London Marathon, this one too has a couple of sponsors such as Athletics Northern Ireland, Belfast Live and Framar Health, Daily Mirror, Better, Belfast City Council, Translink, Spar. Deep RiverRock, Tayto, White Oats, and Linwood are the sampling partners.

Liverpool Rock'n'Roll Marathon

Liverpool Rock'n'Roll Marathon is a race of its kind, as it is accompanied by live music all through. Various bands and DJs set the pace with pop music, rock, jazz, and blues to get the participants' blood pumping. It is true to say that it keeps the crowd jumping! At the finishing line, runners get treated to a concert. The marathon starts at Albert Dock and takes on the musical landmark, e.g., Cavern Club which is the home of the Beatles. Participants can register online on their website for just £30. This marathon attracts up to 15,000 participants. Sponsors of this marathon include Pullman, #itsliverpool, Lucozade Sport, Radio City Talk, United Airlines and Echo.

The Greater Manchester Marathon

This marathon is the UK's flattest marathon course. It started in 2012, and since then it has been taking place each year. Runners pass most of Manchester's landmarks like Old Trafford football ground. The winner of the marathon gets a top prize, which is £750. There are time bonuses for anyone who finishes the race in less than two and a half hours. Participants are supposed to register online every year starting from July as the marathon takes place the preceding spring. This marathon brings together up to 12,500 runners each year. Partners for the marathon include Trafford Council, Basics, Optimum Nutrition, Lancashire Cricket, Manchester Evening News, Emirates Old Trafford, Runners World, Erdinger Alkoholfrei, #FeelBrittany, and Hits Radio.

Brighton Marathon

When it's April in Brighton, then it is time for the Brighton marathon. This event was first held in 2010, attracting 7500 runners. This number has continued to multiply over the years hitting the 12500 runners' mark in 2017. Registration to take part in the marathon opens approximately a year ahead of the marathon. The main partners and sponsors of this event include The American Express, ZXU, and Your London Airport Gatwick. Also, various online betting companies sponsor this marathon.

Birmingham International Marathon

The Birmingham International Marathon offers you a brand-new running challenge. This marathon took place for the first time in October 2017. This marathon forms part of the Great Run British Marathon Series. The starting point of the race is the Alexandra Stadium and the finish line in Birmingham. The roads that this race takes place are completely closed. The participants' number is set at 10,000. The sponsors and partners of this race include various sport betting companies in the UK.
Accommodation in Brathay →